How to implement the ESEF requirements in your annual report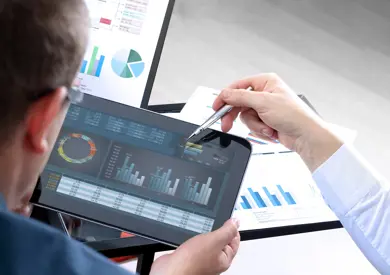 From the financial year 2021, it is no longer possible to submit the annual report only as a PDF. Instead, the annual report must be submitted in a format called iXBRL. We tell you more in this article.
Due to the pandemic, the introduction of ESEF was delayed by one year. But now listed companies need to implement the new EU rules. ESEF is the new reporting format (European Single Electronic Format) that affects all listed companies. 
From the financial year 2021, it is no longer possible to submit the annual report only as a PDF. Instead, the annual report must be submitted in a format called iXBRL. Financial reports must be prepared in XHTML (Extensible HyperText Markup Language) format and financial reports prepared in accordance with IFRS must be marked in accordance with a taxonomy developed by the European Securities and Markets Authority ESMA
Companies that are required to comply with Chapter 16 of the Act. whether the securities market is to apply ESEF. This applies if you have shares, transferable securities such as shares and bonds and other types of securities that are admitted to trading on a regulated market covered by ESEF. Securities with a nominal value exceeding EUR 100,000 are not covered.
Implementing the ESEF requirements and producing an annual report that is both human-readable and machine-readable can take time and be tricky. Therefore, we have developed a couple of suggestions on how companies and businesses can facilitate the implementation of ESEF.
To begin with, it is important to read about the EU taxonomy and the ESEF regulations in order to understand which requirements cover your company and what these requirements mean. XBRL (Inline eXtensible Business Reporting Language) is the technology that enables the integration of XBRL tags in an XHTML document. It can be beneficial to evaluate which system solutions are available and which you should use. 
The tagging can be done both automatically and manually. There are several different vendors that can do this automatically, but the vendors' solutions may differ from each other. It can therefore be good to find out which solutions different companies use and discuss whether you should carry out the tagging yourself or use other people's services. It can also be good to "test tag" the previous year's annual report to get an in-depth insight into how the tagging itself works.
One of the most important steps in succeeding in implementing the ESEF requirements is to have a clear timetable at an early stage. The implementation of ESEF for a company means that several different departments at companies will be involved. Other companies may also work with your ESEF process, such as communications agencies, design and design agencies and system suppliers. It is therefore important to have a clear schedule at an early stage. This is so that everyone involved knows what role they have and when their deadline is.
ESEF, XHTLM, XBRL, iXBRL and tagging, there are many different concepts to keep track of it and even more messy to implement the requirements. But no matter how tricky it may seem, it is important to follow and understand the ESEF requirements. We at Ava have knowledge and experience of the ESEF requirements. We help you with the annual report based on your conditions. Welcome to contact us!