What is PR? We list four trends for 2022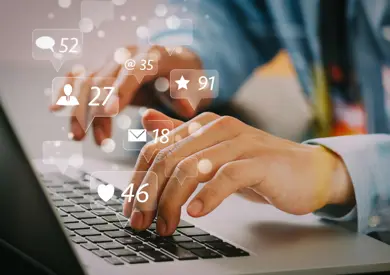 Public Relations (PR) is basically about relationships. PR focuses on your company's relationships with different target groups. It is about establishing relationships with the media, customers, employees, suppliers and the general public. Solid PR work is based on a long-term plan, and an analysis based on which relationships are to be created.
The traditional PR strategy has changed, and more and more digital opportunities are on the market. Today, a combination of traditional and more modern digital solutions is used in a PR strategy. The digital age and social networks mean that the opportunity to spread a press release, for example, has increased dramatically. Today, we can reach out through several different channels in newspapers and television, social media, and our channels. There is enormous potential within these to increase the spread and visibility of the post.
Therefore, it is essential for all companies that want to work long-term to build their brands in all available channels, not only towards potential customers but also towards other relevant parties. The stock market, interest groups and politicians can all be important pieces in building a brand.
We list four trends in PR for 2022
1. It's about data
The future means that PR and marketing departments are becoming increasingly intertwined, which means that PR experts will rely more on data and analysis for their communication efforts. PR is about storytelling, and in the future, PR campaigns and strategies will get their fuel from all your available data.
 2. Personal contact
It is predicted that the future of PR will be more and more marked by personal contact. Gone are the days when it was all about mass communication. A new study conducted by Muck Rack showed that 96 percent of PR experts say that individual emails are the most effective way to capture journalists. To get through the noise, new ways to get through must be done - usually through more personal contact.
3. The power of influencers and social media
More than half of the world's population uses social media today, which has led to new things to tackle in the PR world. The use of social media has increased exponentially in recent years and shows no signs of slowing down. The use of social media means that the PR strategies must now reach more and more people in new landscapes. One way to reach out via social media that has increased in recent years is so-called influencer marketing. Many industry organisations in the United States predict that US influencer marketing spending will increase by 33.6 percent by 2021 to $ 3.69 billion.
4. Sustainability, diversity and equality
There is probably nothing as important as for companies and companies to have an imaginary sustainability work and a focus on equality and diversity in today's society. Sprout Social has conducted a study showing that over 70 percent of consumers want brands to take a stand on social and political issues. In the future, customers will prioritise core values ​​within sustainability, diversity and equality that the company or company follows. Companies that do not have work in these areas risk falling behind their competitors who embrace these issues. The PR industry is not the same as last year, which will change even more in the coming years. Therefore, it is crucial to understand and prepare for the trends in the coming years and thereby strengthen their PR strategies.
We at Ava understand the importance of serious and long-term PR work to reach the right target group and create crucial relationships. Contact us if you want to know more!