Work more efficiently with your annual report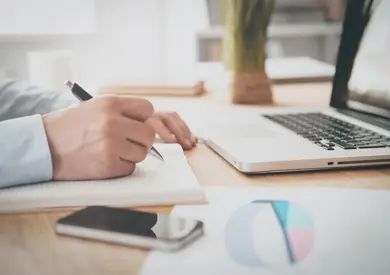 The period for annual reports can be time-consuming and stressful for both small and large companies. We go through some of our top tips for streamlining the annual report process.
The amount of time required for an annual report varies depending on how much preparation time has been spent throughout the year. At Ava, we work extensively with annual reports and through our experiences and knowledge, we've identified common pitfalls. We understand the importance of having clear planning and a vision, ensuring that the annual report is even better and the work more efficient. Here are our best tips to make your annual report work a bit simpler.
Past Annual Reports
Creating an annual report is a process that takes time. However, reviewing past materials can assist in the journey. One step in streamlining the annual report process is to leverage previous annual reports. Not only can we learn from past mistakes but also gain inspiration for areas of improvement. Previous annual reports also provide an easier method to analyze the progression over the years.
Documentation
Throughout the year, it's beneficial to document work to more easily compile information for the annual report. Skipping this step can lead to hours spent trying to find the right information. Hence, it's advisable to remind employees to continuously document their work and store the information in one location to ease the compilation for the annual report. This way, no information is lost.
Planning and Deadlines
The most crucial step for an annual report is planning. Establish a clear timeline with firm deadlines to ensure no time is wasted and all steps are completed timely. Often, unforeseen issues arise that can be time-consuming. A well-thought-out schedule ensures all deadlines can be met, even when unexpected problems occur. It may also be useful to plan how the report will be communicated and through which channels.
At Ava, we can assist you in conveying your message to audiences such as the capital market or other stakeholders who require clear and transparent reporting from your company or organization. Among other things, we have experience with a wide range of reports - annual reports, interim reports, and sustainability reports, both in digital format and in print. Contact us to learn more.