Optimise your annual report - Build investor confidence and achieve better results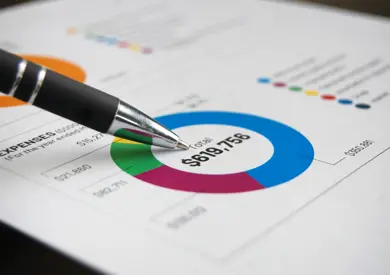 Creating an annual report can feel like a long and difficult process. But after all, it is one of the most important productions for a company. It is with the help of the annual reports that external parties can understand the company's activities and what has happened during the year.
Many companies spend a lot of resources on the annual report, but forget to make the most of it after it has been published. All the work put into a good annual report can also be used for other communications, not least on your own website to drive traffic.
The quality of listed companies' annual reports is improving, but there are still some pitfalls to watch out for. At Ava, we'll guide you through some of the most common ones and help you produce an annual report that inspires investor confidence.
Design & illustrations
An annual report design can easily become something done at the last minute, after all the "important stuff" is done. But the fact is that design is essential to making your report as effective as possible. A well thought-out design can make your financial statements more interesting to read. It can help your company's identity shine through, with elements that are part of your brand's graphic profile. The report can also be made more readable when various illustrations are used to clarify the content, such as an organisational design, division of responsibilities or a value chain. In this way, the reader can more easily understand how everything fits together. Using graphs and charts to highlight figures is also a good way to increase understanding. 
CEO commentary: a source of trust and information
The CEO comment is an excellent opportunity to build trust in the company's management. It should describe and reflect on what has happened during the year, but also look ahead. By being clear and confident in the CEO comments, stakeholders can perceive the CEO as trustworthy, which is a key factor for long-term investor relations. Be wary of specific statements or goals for the future that may backfire if not met. Instead, reflect on trends and describe the company's direction and the world around it.
Looking ahead
Although the annual report should provide an overview of the year and describe important events, it is important not to forget that the report should also provide information about the future. Tell us in detail about your strategy and how you are working towards your goals. This is something that investors particularly appreciate, as valuations are already complex enough to make even if all the information is available. Help the recipient understand how the business works and describe the value-creating processes that take place. Furthermore, you should describe market developments and the trends and risks that the company identifies. Reporting segment by segment may also be of value. 
Sustainability reporting
In recent years, there has been an increasing number of regulations and legal requirements around sustainability reporting. In 2021, companies had to report for the first time based on the EU Green Taxonomy, and already in 2024, a new EU directive, CSRD, will be introduced, which puts additional requirements on how companies report. Many companies report only to the extent required by law. But as the focus on sustainability increases, companies need to stand out. Sustainability reporting is an important element of the annual report, as it demonstrates the company's commitment and efforts to address social and environmental issues. It can also help to build trust with investors and other stakeholders. Be sure to include information about the company's sustainability goals, achievements and challenges, and how it plans to continue to improve sustainability.
Recipients
Last but not least, remember that your annual report has different types of readers with different needs. A really good annual report balances all these needs in a good way that makes all stakeholders feel that they are getting the information they are looking for. A simple experiment to improve your annual report can therefore be to read through the output from different perspectives, such as investor, customer and employee.